Signs that you've been infected by a ransomware attack include inaccessible files, random file extensions that have been added, and a ransom message. In order to restore your data, increase security and prevent future encryption, you'll need ransomware removal services that can completely remove the malware from your network and prevent further encryption.
Also, a ransomware removal service can provide you with data recovery, inform how the breach happened, and most importantly – decrypt your data.
The ransomware removal process covers removing the actual virus files themselves and includes securing any back doors or vulnerabilities that were exploited.
After all, the last thing you want is for the virus to infect your device again after you've spent days restoring data and the business has already suffered from costly downtime. 
At Proven Data, we've helped thousands of clients navigate ransomware removal and recovery. Our ransomware removal experts have first-hand knowledge of attack methods, malware, and tools used by hackers to inflict ransomware. 
Consequently, we have developed malware removal processes and strategies to effectively remove malicious files, identify vulnerabilities, and prepare the network for business operations. 
By the end of this article, you will:
Learn why removing ransomware is critical to mitigating damage and security vulnerabilities
Know the difference between ransomware removal and ransomware recovery
Understand the process and costs of a complete ransomware removal service
How to detect ransomware
Ransomware spreads fast. Once it gets into one device of your network, you need to act quickly to prevent further damage, here are some early signs of a ransomware attack for you to watch out for:
1. Antivirus and anti-malware software warning
When you use powerful and updated security software, it'll scan every website and file you access. And then they will alert you to the malicious file trying to access your system. Unfortunately, some ransomware can bypass the most sophisticated antivirus. So you must also pay attention to the other signs.
2. The ransomware changes the file's extension
Check your file names for any added extensions. For example, you can name an image Photo01.png. The .png is the file extension. When ransomware gets into your computer or networking, it adds its own extension after the file extension. This is also how you can know which ransomware bypassed your security system.
3. Overworked CPU
Ransomware can affect your computer's functions, increasing CPU activity and disk activity. Which will overheat the device. You can notice it by the loud noise coming from the fan.
4. Encrypted files
After a cyber-attack by ransomware, your files are hostage. Ransomware is a type of malware that encrypts files and demands a ransom to give a key for decryption. 
Don't pay the ransom! You can learn more about what to do in case of a ransomware attack in the Ransomware Guide by CISA, a governmental entity that investigates these crimes.
Before reaching this point, though, you must disconnect your device from the internet and isolate the infected device from other devices. Containing the ransomware spread is the first step to removing it.
How does ransomware removal work?
You can restore your files after a cyberattack with a backup or by contacting a data recovery service. But you must ensure your system is not vulnerable anymore and that there's no trace of malware infection on it. You also have to investigate how the ransomware infected your device, so you can improve the security with specific actions.
These are a few steps some ransomware removal services may follow.
You can contact Proven Data to create a ransomware removal plan specific to your business needs.
1. Establish remote connection
Upon your approval of the service, our ransomware removal technicians instruct you on how to install TeamViewer. 
TeamViewer allows recovery experts to connect remotely to your device to run a Malwarebytes scan. The Malwarebytes Toolset is a licensed portable antivirus program designed for computer repairs. 
The anti-malware program is not installed on your machine. Recovery experts use a remote connection to scan your device to expedite the process of ransomware removal.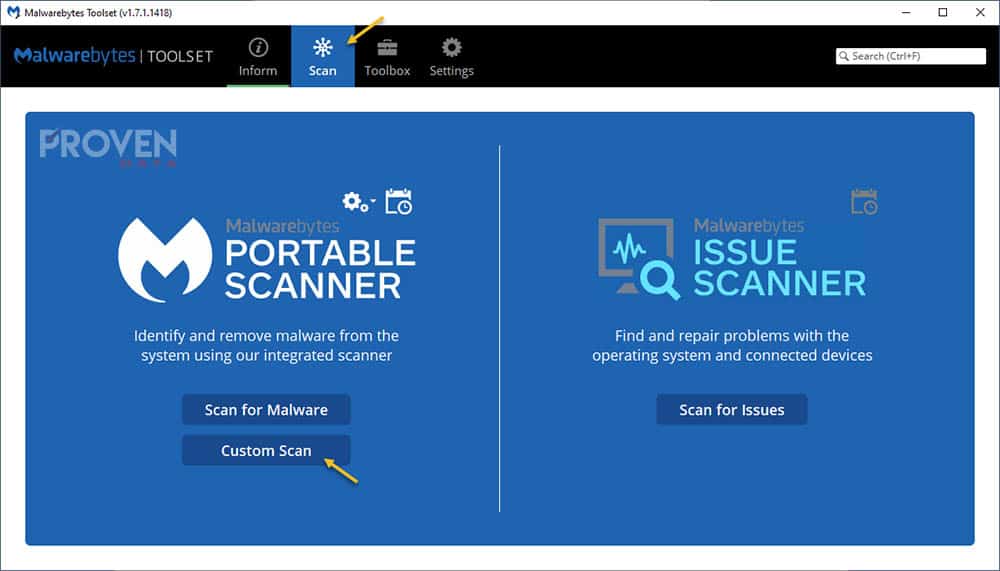 While the tool scans your device, you can perform a backup of your data. This ensures your backup files are malware-free.
2. Run a custom scan to scan for rootkits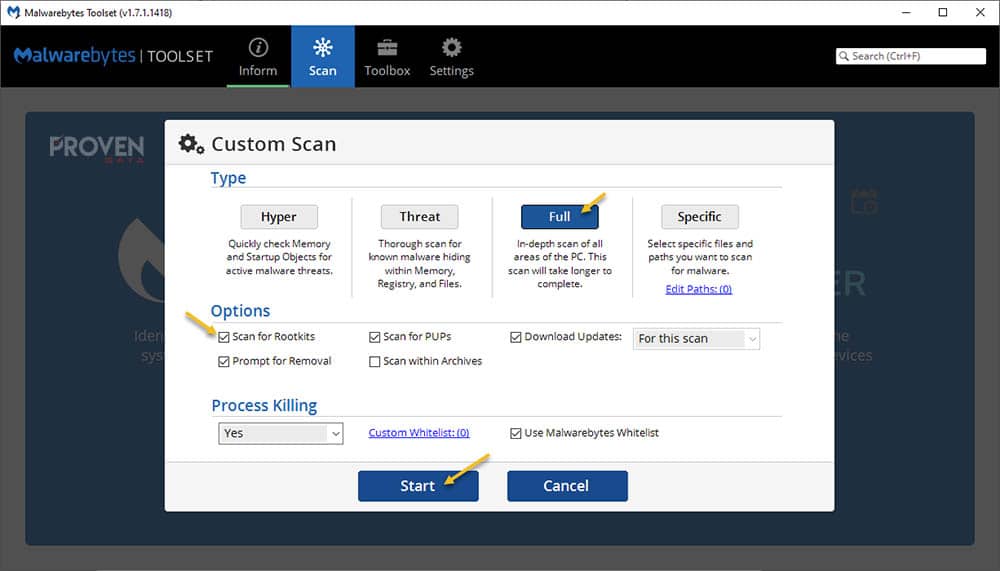 After that, the recovery experts will unzip the Toolset into a created folder, then run the tool as an administrator to scan for rootkits.
Rootkits allow cyber criminals to remotely control your device and are designed specifically to hide on your device undetected.
The first stage of the scan is for the tool to check for new definitions. Once updated, the scan will proceed.
Once the scan is complete, they remove the antivirus software from your device. If you are interested in purchasing your antivirus software, endpoint detection and response (EDR) solutions are available.
3. Save and send log, quarantine malware 
Once the scan is complete, the ransomware recovery expert will save the log of the scan as a txt file. After that, the file is attached to your case ticket. 
The ransomware recovery experts will give you instructions, including quarantining the malware. It's crucial you follow the recovery technician's instructions to guarantee the ransomware removal is successful.
4. Identify and secure backdoors
After the scan is complete, the ransomware recovery expert patches any backdoor accounts that the attacker created to allow them to access the system later.
This ensures your device is secure and that the same ransomware does not enter your network using the same methods.
To increase your security and avoid new cyberattacks, you must be aware of how ransomware spreads.
Ransomware removal vs. ransomware recovery
Removing the ransomware virus will not decrypt and restore your files to their original functioning state. A comprehensive ransomware removal eliminates malicious software or vulnerabilities used to compromise your network.
The optimal method of ransomware removal is to wipe and reimage the workstation or server completely. Businesses may not always prefer it, as it may require you to reinstall software and programs. 
However, even a fresh reinstallation of the operating system is not enough to ensure the network is entirely safe. There may still be a remote access vulnerability from your firewall, VPN, or remote software provider.
Meanwhile, ransomware recovery has several methods, from using backups to contacting a data recovery service.
Regardless of the ransomware recovery method you eventually choose, all threats related to the ransomware must be completely removed first to stop the infection's spread and ensure the security gaps are closed. For this, you'll need a ransomware removal company.
Why do I need a ransomware removal service?
Ransomware is designed to spread across your network. Taking immediate action to remove malware and security vulnerabilities from your network can prevent further damage.
Unfortunately, the early stages of many ransomware attacks go undetected for some time.
This allows threat actors to conduct reconnaissance, remove data from your network, and create dangerous backdoors to access your network at a later time.
Ransomware attacks cost more than part of your budget. This can cost your data, your business integrity, and your company's future. An incident response plan and updated backups can prevent these losses and keep your business going for years.
However, if you don't have a plan yet, then the ransomware removal process is your chance to restore your business. This process aims to remediate any prior malicious activity performed by the attacker, allowing the environment to be ready for data restoration.
How did ransomware infect my network?
Understanding the attack vectors that the ransomware actors exploited is critical to securing your network.
There are three common ways ransomware attacks happen:
Open RDP ports. Remote Desktop Protocol (RDP) is the native Windows remote access method that allows a user or administrator to remotely connect to a computer or server from a location on another network. 
This is the most common attack vector for ransomware that we've observed, especially during the Covid-19 pandemic, when many businesses switched to a remote workforce. 
If your RDP access is unsecured or the password is weak, it is easy for a determined attacker to breach your network. RDP port settings are viewable from your firewall's port forwarding rules.
Phishing emails. Emails that contain malware or malicious links that install a ransomware program or remote access Trojan on the computer when clicked are one of the most common gateways for ransomware. All it takes is one member of your organization to click the link or download the infected files. Then the malware can spread undetected like wildfire through your network.
Exploit kits. These are advanced malware tools that allow cybercriminals to target victims through security gaps. Even in well-known software and hardware from technology manufacturers. This potential vulnerability can be exploited if you don't regularly install software and hardware security updates. For example, there's an outdated VMware ESXi Hypervisors vulnerability and they often get through unpatched Microsoft Exchange exploits.
How much does ransomware removal cost?
To fully understand the costs associated with removing ransomware from your environment, we will break it down into two stages: ransomware malware removal and vulnerability scanning.
1. Ransomware malware removal
Ransomware malware removal includes scanning computers and servers for the following: 
Malware

Rootkits & back doors

Malicious registry entries
A professional ransomware removal service, that includes the full ransomware recovery (data decryption, ransomware removal, fixing corrupt files, etc.) cost can only be estimated after an evaluation. However, you may expect a complete ransomware removal and recovery service price to be from $1.700 – $7.000, depending on the hours worked and dificulty for the recovery service.
After the ransomware removal process ends, our experts also ensure that the decrypted data is accessible. Since ransomware often corrupts files, a ransomware data recovery service includes restoring files back to normal. 
You can also decide to keep an antivirus software with an additional cost to purchase an antivirus solution.
The factors that influence the cost of ransomware malware removal include:
Number of infected endpoints

The sophistication of the ransomware
2. Vulnerability scanning
Vulnerability scanning includes:

Scanning IP address to discover open RDP ports

Scanning devices connected to the network to check for known exploits
The factors that influence the cost of vulnerability scanning include
Number of endpoints on the network

Multiple domains & firewalls
Next steps to ransomware recovery
As soon as the ransomware removal finishes, you can choose from the options for ransomware recovery to get your data back. 
Whether you can restore from backups, decrypt your files, or must consider paying the ransom, the ransomware recovery specialists at Proven Data are here to help you. Our 24/7 services can walk you through a ransomware incident from start to finish.
Need ransomware removal?
Our ransomware recovery experts are here to help you navigate every aspect of your ransomware incident

Start the ransomware recovery process