We must protect Internet of Things (IoT) connected devices with the best cyber security practices. Learn to protect your business as more technology is added to your operations and keep your devices secure.
It's the final week of the 2020 National Cyber Security Awareness Month! The team at Proven Data is thankful to be a part of this initiative with the National Cyber Security Alliance and the Cybersecurity and Infrastructure Security Agency.
Our articles in October will help you #BeCyberSmart today: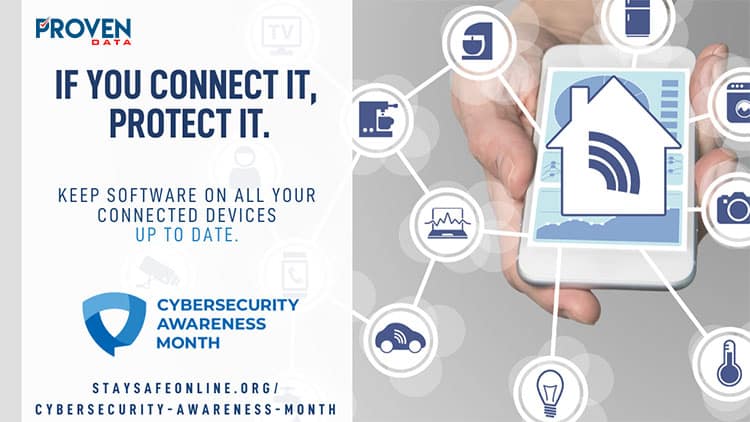 Protecting Internet of Things (IoT) with cyber security
You've read all the previous articles, and as a business decision maker, you might be asking yourself:
Am I really going to be a victim of cyber crime? My business is too small, I have nothing important cyber criminals desire.
You might think it's okay to take the chance and avoid spending proactively on your cyber security. Unfortunately, many businesses will face cyber threats at some point in time. 
Last year alone, businesses and individuals lost more than $3.5 billion in cyber-crime related damages, according to the 2019 Internet Crime Report.  
During the last week of National Cyber Security Awareness Month, we're here to make sure every organization takes their cyber security seriously by highlighting how taking action today can help improve the state of cyber security tomorrow and beyond. Strengthening your cyber security is achievable through consistent action and reassessment of your data protection framework. 
This article is here to showcase why you must protect Internet of Things connected devices. We will highlight how the current state of cyber crime and the growth of internet connected devices and 5G security concerns and risks that will affect your business today and in the future. 
Expansion of cyber crime
Cyber crime is largely misunderstood by the general public. If you ask your friends and colleagues, "What is the most prevalent cyber crime happening this year?" they probably will shake their head with bewilderment. Cyber criminals have evolved beyond the comically infamous Nigerian prince email scams we're all so accustomed to seeing over the year. 
This inexperience underscores the importance of awareness-based initiatives such as the National Cyber Security Awareness Month. If you do find yourself a victim in a cyber crime, it is important you report the attack to authorities. 
The reality is cyber crime is expanding at an alarming rate. These criminal gangs are quickly becoming fully-operational organizations that have specialized labor helping them infiltrate networks. 
The pandemic sparked by COVID-19 is accelerating these cyber security threat trends. The United States' FBI reported they are receiving as much as 4,000 daily cyber crime reports each day since the beginning of the pandemic. 
We also demonstrated many cyber criminals taking advantage of the weak security of these organizations as they increasingly move to work-from-home environments. 
These trends will only continue if we don't encourage more organizations to enforce stronger cyber security today. Make sure your business can protect Internet of Things (IoT) connected devices. 
Internet of Things devices in business
Now more than ever before, businesses of all sizes are using technology to create streamlined processes and make their operations efficient. Even the smallest of small businesses use technology (computers, servers, data storage) to modernize their company activity. Each additional connected device can pose a security risk, or it creates an opportunity for the business to strengthen their cyber security framework; the choice is yours. 
Although it's difficult to calculate exactly how many IoT connected devices there are, reports claim there were more than 7.6 billion active devices at the end of last year. This number will exponentially increase, and we might see more than 24.1 billion internet-connected devices by the end of year 2030. With this many devices, you cannot afford to fall behind on security.
These internet-connected devices are not just the Amazon Alexa speakers you have in your kitchen to remind you of when your dishwashing soap will be delivered. These Internet of Things devices are being adopted by industries and sectors of all kinds: 
Industrial machinery: 

manufacturing automation such as robotics and machine-driven production

Connected markets

: real-time information relating to marketplace information

Fleet and logistics:

 ships, vehicles, aircraft & machines that use data for managing 

Consumer products: 

appliances, home assistants, security cameras, etc.
For example, cyber attacks on manufacturing businesses are up 156% this year, according to the 2020 Beazley Breach Insights. If your company uses internet-connected machinery, and a cyber attack happens, every second counts when products can't be manufactured and orders fulfilled. This summer, Honda's global operations were impacted by a cyber attack and was forced to suspend automotive assembly lines.
What impact does 5G have on cyber security?
The newest generation of communication network infrastructure (5G means fifth-generation) promises to bring a revolutionary new approach in data transfer speeds. Many consumers are aware that this new technology will bring fast data speeds to their newer cellphones, however that's only the tip of the iceberg for how our society will be impacted. 
5G security risks
Security professionals are concerned that the growth of 5G will present new cyber security implications for our data privacy and security. Cyber criminals might be able to infiltrate networks with faster speeds and exploit the growing number of internet connected devices. 
On a larger scale, policymakers are concerned that the manufacturers of the 5G infrastructure will compromise the security of this new-era communication band.
Secure 5G and Beyond Act of 2020
In March of 2020, the Secure 5G and Beyond Act of 2020 was signed into law by the executive branch of the United States. This legislation will help the US government develop a strategy to help secure 5G connected infrastructure and all the devices that will use this technology in the future.
Steps to protect Internet of Things devices
Make it a personal and business habit to protect Internet of Things with better cyber security. Establishing a routine that safeguards these connected devices is the foundation of a safe cyber security framework.
Create a goal to protect data with connected devices cyber security: 
Scaling cyber security
As your business grows (both in size and dependence on technology), it is key to create a cyber security plan that will scale with the company. If your organization takes connected device security seriously, it will be able to adopt this new expectation as a mandatory practice at the company.
This can be achieved through a comprehensive approach in: 
Imagine if your organization could create this expectation of cyber security as new employees are onboarded. There will be a massive positive shift in the cyber security culture which can help keep your data more secure. 
If these cyber security expectations aren't developed within the business growth plan, it is likely connected device security will be overlooked as your company becomes larger and employs additional employees. 
Protect Internet of Things by taking action today
If there's anything you take away from this cyber security awareness month, we'd like to encourage you to act quickly and apply what you've learned from these educational resources this month. It's not if your business falls victim to a cyber attack, but when.
We want to give special thanks to the many NCSAM champions who participated in helping others #BeCyberSmart during October. 
Thank you to everyone who participated in this year's National Cyber Security Awareness Month and helping to share the message #BeCyberSmart with their friends, families, and colleagues. Cyber security is something we can all participate in and help secure tomorrow by taking action today! 
Proven Data is here to assist businesses who wish to take their data security seriously and protect Internet of Things against cyber attacks such as ransomware. Our cyber security professionals have the experience to evaluate your specific company needs and provide cyber security solutions. 
Are you safe from cyber threats?
If you don't know how to get started or want to extremely reduce your risk of cyber threats, book a consultation with one of our security experts today!

Request a cyber security consultation