As you start building a cybersecurity plan for your business, you may be asking how a professional penetration testing service works, and how it can help your business.
Penetration testing can discover the vulnerabilities in your security environment and prevent cyber threats.
At Proven Data, we help clients discover their risks through penetration testing and create customized preventative cyber security solutions to mitigate risk. Our cyber security experts are ready to help you discover and resolve your network vulnerabilities before a cyber criminal exploits them.
By the end of this article, you will:
Know the benefits of working with a professional penetration testing service
Understand the step-by-step process followed by a pen testing service
Learn the benefits of working with a professional pen tester and its cost
What is penetration testing?
Penetration testing, also known as pen testing, is a cyber security evaluation that identifies, exploits, and removes vulnerabilities from systems, networks, and websites.
To do so, the IT expert, in this case, an ethical hacker, will use cyber criminals (also known as hackers and threat actors)  tools and techniques to replicate a cyber attack. This allows cyber security professionals to find vulnerabilities and fix them, increasing your system's ability to prevent a successful cyber threat.
Who should conduct a penetration test?
Before we dive into the nitty-gritty of how a professional penetration testing service works, we want to proactively answer a question our clients often ask: can I conduct a penetration test myself or do I need a service?  Technically the answer is you can conduct a pen test on your own. However, to achieve the most thorough assessment possible, a penetration test should be performed by someone who holds the necessary qualifications and is organizationally independent of the security system's management.  
A penetration testing service employs cyber security professionals who have experience with permissively hacking systems with the sole purpose of detecting vulnerabilities.
Reasons to use a professional ethical hacker from outside of your organization:
The lack of expertise can increase the risk of issues arising during the test and decrease vulnerability detection success. This risk could lead to business interruption or downtime
Regulations require penetration testing to be performed by someone independent from the management of the organization's security systems
An insider wouldn't qualify as a third-party tester who can assess the environment and construct a report that you can provide to clients and auditors
An internal tester may be biased and overlook a vulnerability that an outside resource would detect
Step-by-step process of penetration testing
There are five basic steps a pen testing service will follow when looking for vulnerabilities in your business system. 
Contact our technicians to know more about how Proven Data can provide your business with personalized penetration testing.
1. Pre-test interaction
The penetration testing company will begin by defining the test objectives and goals, outlining the logistic details, and setting expectations and rules for the process from start to finish. This is the planning step.
Penetration testers use this initial phase to thoroughly understand your specific risk and your organization's security culture to develop a customized strategy to conduct the most effective pen test.
In this stage, a penetration test expert determines, alongside you, what type of pen test will be the best fit for your organization.
Internal/external infrastructure penetration testing
Wireless penetration testing
Web application testing
Mobile application testing
Build and configuration review
Social engineering
Cloud penetration testing
Agile penetration testing
2. Gather reconnaissance information
The second step is to conduct reconnaissance to gather information about the network. Also known as Open Source Intelligence (OSINT), this stage is when the ethical hacker will uncover the specified amount of information designated by the pen test type.
The reconnaissance will identify the information necessary to understand the specific vulnerabilities and attack vectors. A professional penetration testing service will follow an extensive checklist to discover the network's unsecured entry points and vulnerabilities. The OSINT Framework provides a plethora of details for open information sources. 
Penetration tests use intelligence-collecting techniques including:
Search engine queries
Domain name searches
Social media
Whois lookups
Social engineering
Footprinting
This helps to identify who owns a target, hosted company, the location of servers, IP address, server type, and more. The pen tester attempts to gather sensitive public-facing information about the organization while posing as an attacker.
3. Identify targets and attack vectors
The third step is to identify targets and map attack vectors based on the material gathered at the reconnaissance step.
This includes the attack methodology employed during the penetration test. Pen testing services typically focus on the following areas when mapping and identifying vulnerabilities:
Internal threats.

 threats posed by staff or vendors

External threats

. threats posed by unsecured ports, applications, network traffic, and protocols

Organization assets.

 Employee, customer, and technical data
4. Attempt to exploit vulnerabilities
Once the attack landscape has been created, the penetration tester will attempt to exploit the vulnerabilities as if they were hackers. One of the reasons this professional is also known as an ethical hacker.
This vulnerability exploitation by an ethical hacker allows you to:
Discover whether a cybercriminal could gain and maintain unauthorized access
Test the effectiveness of your detection protocol
5. Analysis, reporting, and recommendations
After the vulnerabilities have been exploited during the pen test, documentation of the attack methods used and test findings are recorded for analysis.
The pen tester will analyze the data collected to determine the value of the exploited systems and the value of the data compromised. The penetration testing service will then present you with a report that includes a prioritized list of recommendations to secure your network and to ensure the addressing of vulnerabilities.  
The report will include:
Detailed explanations about the critical vulnerabilities that need to be secured
Information on attack vectors discovered during the reconnaissance and target identification stages
Remediation recommendations on how to patch security issues that were exploitable during the pen test
After the recommendations have been made, the pen tester will clean up your network and reconfigure and secure any vulnerabilities that they opened up during the exploit.
How much does a professional penetration test cost?
A professional pen test cost will depend on the number of days our ethical hackers need to achieve the results to conclude the test. You can request a quote to have an estimated price for the service. 
However, the average cost of a penetration test ranges from $4,500 to $20,000.
The more extensive the network and the more complex the security environment, the lengthier the test will be. Meaning, the more it will cost. 
The type of pen test and the hours needed to conduct the test's designated scope will influence the cost of working with a professional pen testing service.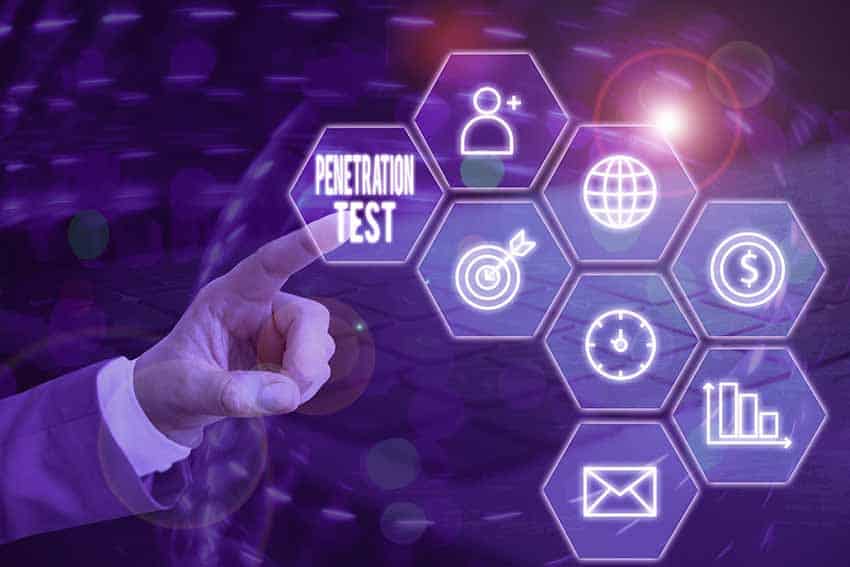 Next steps to improve your security
Once the penetration test is complete, you should immediately implement the recommended security measures to close up dangerous vulnerabilities. Most companies that offer pen testing will provide actionable steps you can take to secure your network and help you close the vulnerabilities that may exist.
Consulting with a cybersecurity professional can help you find the cybersecurity products and services that are right for you.
Need a customized penetration testing service for your organization?
Talk to a cyber security expert today!

Request a Penetration Test Consultation