Safeguard your business with Proven Data at your side
We're proud to partner with top-notch companies to deliver services we can be proud of.
We're a trusted provider of a wide array of IT services, with a particular emphasis on cybersecurity, data recovery, and digital forensics. We've built a reputation for excellence in our field, earning the trust of thousands of clients, from commercial businesses to government agencies, around the globe.
Why our credentials are important
Part of our success is providing top talent to our clients to ensure the job is completed thoroughly and correctly. Our staff is continuously advancing their skill sets by obtaining some of the most prestigious certificates in the industry. Members of our staff have their Doctorate in Cyber Security and Digital Forensics.
Our commitment to security is our top priority as we are HIPAA compliant, utilize 256 BIT AES encryption on the web traffic and when storing your data on our servers. We have maintained an A+ BBB rating since becoming certified in 2014 and have not had a single complaint. 
We're proud of these certifications and partnerships, as they underline our commitment to delivering reliable, robust, and innovative IT solutions.
Certified Forensic Computer Examiner (CFCE)
Being a Certified Forensic Computer Examiner (CFCE) by the International Association of Computer Investigative Specialists (IACIS) indicates that an individual has undergone rigorous training and passed comprehensive examinations in computer forensics. They are recognized as experts in the field, capable of conducting high-quality computer and digital investigations.
Certified Computer Examiner (CCE)
Being CCE-certified by the International Society of Forensic Computer Examiners (ISFCE) means that one or more members of our team have demonstrated professional competency in the field of digital forensics. The Certified Computer Examiner (CCE) certification is a prestigious specific forensic certification that is widely recognized in the industry. It is designed for professionals specializing in computer-based crimes, signifying their ability to conduct detailed forensic examinations of computer systems and other digital/electronic devices.
EnCase Certified Examiner
Being EnCE-certified as an EnCase Certified Examiner indicates that one or more members of our team have demonstrated proficiency in using EnCase forensic software, one of the industry-leading tools for computer and digital investigations. It's a testament to their expertise in conducting thorough and reliable digital forensics examinations.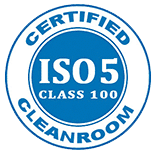 ISO-5 Class 100 certified cleanroom
Being ISO-5 Class 100 certified cleanroom means the environment has been tested and certified to have no more than 100 particles (0.5 microns or larger) per cubic foot of air. This certification signifies a very high level of cleanliness, suitable for certain types of scientific research, manufacturing, or data recovery work.
How we work with our partners
At Proven Data, we are proud to offer a wide range of IT services, including comprehensive cybersecurity solutions. Our services are designed to protect businesses from cyber threats and attacks, offering state-of-the-art protection technology that includes 24/7 monitoring and training.
Our team of experts has over 20 years of experience specializing in data recovery, cybersecurity, and digital forensics. Our cybersecurity services are favored by both commercial and government agencies due to our proprietary intel and top talent. We offer everything from network security and cyber threat detection to vulnerability assessments and incident response, utilizing advanced technologies to enhance business operations.