Each year, Proven Data offers a scholarship opportunity to students who are seeking a professional future in technology, cyber security, and the innovative sectors. Our goal was to provide a thought-provoking essay contest in which students could showcase their perspective on a growing concern in the information security sector. This year's scholarship award received a record number of submissions from students at top-universities across the nation! Check out the official scholarship announcement below:
Proven Data 2019 Scholarship Announcement
The 2019 Proven Data Technology Innovation Award has been granted to Noelle Bloomfield of the Kellogg School of Management at Northwestern University. Noelle's response to the theme of How will digital security continue to influence the intersection of technology and innovation? directly addresses the growing concerns of security implementation, especially at the consumer level. We've published the scholarship announcement and Noelle's sharp response below: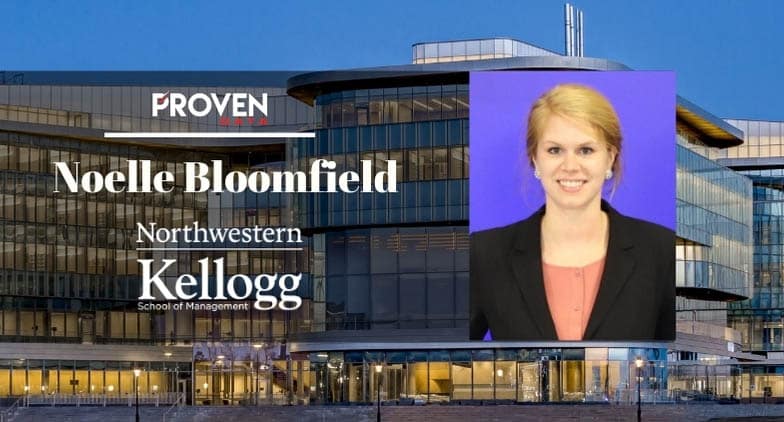 Scholarship winning essay (Noelle Bloomfield)
As internet connectivity becomes increasingly part of common household items with the burgeoning "Internet of Things," digital security is paramount. Devices must now be developed with security in mind, such that connected coffee-makers or hairbrushes do not become network entry points for malicious actors to steal valuable information. Consequently, as technological advancement drives convenience for end users, cybersecurity is becoming an increasingly important focus for businesses of all industries. In my belief, this will result in three major changes in the way technology and innovation grow together: 1) Customers will become increasingly aware and diligent in understanding how digitally secure their devices, apps, products, and machines are 2) Companies not traditionally involved in digital security will become so and 3) Traditional marketing, sales, service, and other professionals will have to become literate in digital security to effectively attract and retain customers. 
Today's up-and-coming generations are digital-first, operating in an environment where activities such as health monitoring, examinations, payment processing, professional networking, and family communication are all done online. However, these savvy users require a level of trust, before sharing their personal information. Growing up in the digital age has meant growing up with multi-factor authentication, biometric security, and the expectation that personal information is adequately secured. The result is that these young professionals, students, and teenagers will continue to demand "smart" technologies that equip them with the analytics and fast-paced communications tools they have come to expect. Thus, manufacturers of products ranging from kitchen equipment, transportation solutions, and household appliances will not only have to innovate and improve their technologies in order to compete, but they will also have to be vigilant in the security of their products and services in doing so. Therefore, digital security will be a consumer-driven requirement of upcoming technological innovations. 
Implied in this transition is the consequent evolution of businesses of all shapes and sizes into, at least in part, security companies. Any company incorporating internet connectivity or the input of personal information into their products is also entering the business of consumer trust. A factory floor robot injecting medication into its packaging must have the correct dosage, a connected car must send the right diagnostics to the manufacturer, and credit card information on a check in site must be protected from fraud. Without security in these measures, the technology is harmful to its end customers. Further, as companies increasingly adopt cloud-based technologies and move information off-premise, advanced security protections are required in order to keep proprietary information safe. As a result, businesses services must involve best-in-class security measures to establish and maintain credibility with customers, whether this is developed in house, or through external contractors. 
With increasing technological demands from customers and the rise of security across industries, more professionals must become literate in digital security. Consumer protection will become a key selling point, and expertise in this matter across the salesforce will be crucial to business growth. Ultimately, for technological innovation to be successful, digital security is essential for consumer adoption and product success.
About Noelle: Noelle Bloomfield is a second-year MBA candidate at the Kellogg School of Management at Northwestern University. Prior to Kellogg, she served as Lead Public Relations Manager of cybersecurity public relations at AT&T, handling strategy and execution for proactive and reactive cybersecurity issues for the company. Before taking this role, Noelle worked as a consultant with H+K Strategies, where she led a competitive intelligence operation for AT&T's media relations team. Noelle holds a B.A. in Psychology from Harvard University, and is expected to receive her MBA in Marketing in June of 2019. After graduation, she will be moving to San Francisco to work as Product Marketing Manager at Salesforce.